Flower of the Demonic Cult
Jump to navigation
Jump to search
Stage

5

Unlocked by

Next stage

Previous stage
Flower of the Demonic Cult is the fifth stage of the Myriad Needle mystery.
Finishing the stage will reward you with the following items:
5,000 
20,000 
In addition, there are the following mystery completion rewards from the event tab:
To unlock the stage, you have to finish the Suspicious Woman request, from Snake Pit.
Go to the cliff location to meet Yu Gombo. (Upper Death Gorge)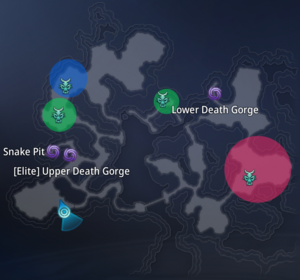 While still in the Upper Death Gorge, defeat Earwigs near the 2 portals (Snake Pit and Elite Upper Death Gorge) until you collected 30 Earwig Husks.
Search Yu Gombo at the Campsite West in Snake Pit, next to Gideok.
Talk to Gu Wolong.
Kill possessed enemies in Upper Death Gorge to obtain 20 Possessed Bone Shards. They can be found above the red circle around Soul Collector Ma Ryeongju.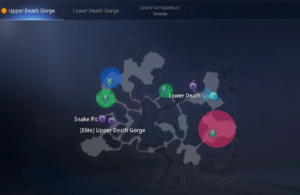 Go back to Gu Wolong and talk to him.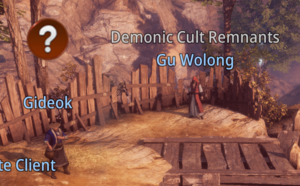 Move to the Upper Death Gorge and kill enemies next to Soul Collector Ma Ryeongju (red circle) to collect 25 Evil Possessed Beads.
Talk to Yu Gumbo at the Campsite West again.
In the Upper Death Gorge, move north and find Gok Danhwa. You have to air walk your way to the location.
Eventually, you have get a Furious Dusk Armado Husk. To receive it, you have to kill a Furious Dusk Armado, which is a 5-player boss monster, in Secret Peak 2F. It can be summoned by using a Furious Dusk Armado Summon Badge.
Eventually, go back to the Upper Death Gorge and report to Gok Danhwa.