Enchanting
Jump to navigation
Jump to search
Besides enhancing there is another way to improve items called enchanting. While enchanting cannot destroy the item, it still has random elements.
When attempting to enchant an item, additional attributes will be rolled randomly. Both, the attribute type and the attribute value are random. Each attempt costs darksteel

, copper

and identification scrolls

.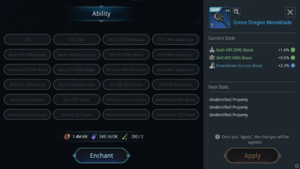 Depending on the rarity of the item, a different number of attributes can be added.
Enchantment attempt cost and slots by item rarity

| Item rarity | Cost | Attribute slots |
| --- | --- | --- |
| Uncommon | 3,000 1,000 1  | 2 |
| Rare | 6,000 2,000 2  | 3 |
| Epic | ??? 3,000 3  | 4 |
| Legendary | ? | ? |