Cleaning the Backstreet
Stage

3

Unlocked by

Next stage

Previous stage
Cleaning the Backstreet is the third stage of the A Noble Cause mystery.
Finishing the stage will reward you with the following items:
In addition, there are the following mystery completion rewards from the event tab:
Talk to Wi Myeong-ok at Bicheon Town.
First, move to the Bicheon Castle Taphouse and buy the Dawnbreather (50,000 Copper) from Seolan. Then, go to the Bicheon Castle Backstreet and move to the marker to talk with Drunk Gunseo. After speaking with him, talk with Drunk Sonje who stands next to Gunseo.
Talk to Wi Myeong-ok again.
Go to the Taphouse again, this time buying the Venus Spirit (70,000 Copper). The, talk to the beggar Ganghoo.
Next, kill Red Viperbiests at Snake Pit Labyrinth 2F (next to Red Viperbiest Legate (left green circle) to collect 20 Red Viperbiests' Iron Scales.
Speak with Ganghoo again.
Travel to the Twinway Clan Watcher CPT at Bicheon Castle Backstreet, then move west to the adjacent area. From there, move into the building north (see images) to the Wanteds Hollow. From here, fight your way through the area and eventually fight against Jeon Seoguem.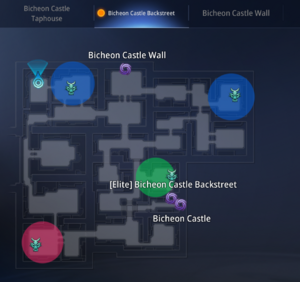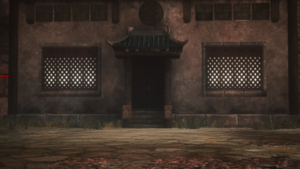 Leave the area and go to the location of Noh Wujang to defeat him.