Maven Heo Mann
Maven Heo Mann can be found in Bicheon Castle.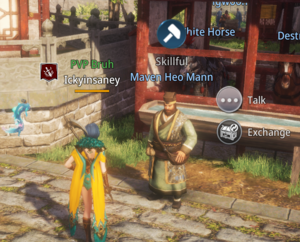 If you are on the Noh Wunjang's Evil Path Mystery (A Noble Cause) you are probably on this page because you are on Clue 6!
After talking to Ganghoo, he says to get 10 Rare Greater Yang Pills (the blue ones ;)) and take it to Heo Mann.
But in this case - Heo Mann doesnt show up with the usual Mysteries icon on the map.
He is also not an NPC in Bicheon Castle, so very hard to find!
After searching around, he is standing next to Ju Jangmyun, an NPC of Bicheon Castle.
So you can fast travel to Ju Jangmyun, or go here on the map.